Product
Bean Color Sorter Machine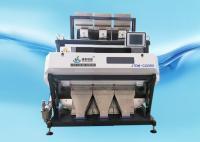 Color Sorting Coffee Beans
Profession in supplying a variety of color sorters such as beans color sorter machine, cereal sorting equipment, tea color separator and more, Jietai Technology is highly established as benchmark in the food applications. The sorting machine is essential in agricultural and industrial processing for separating defect items especially for mass fabrication line of plant. Completed with accuracy and efficiency is our most desired mission in our products.

Due to the increased demands of advanced sorting machines for grain processing around the world, the offered coffee beans color sorter will meet expectation of worldwide clients. Jietai Technology provides easy operation and precise processing capacities for you. With the help of CCD camera system, the broken, insect damaged, unripe and white beans will be injected through a compressed air into reject pile. Even very tiny spots can be detected.

To achieve the optimized carryover and enhance the processing efficiency, having the high end device is regarded as necessary and important. We are one of the best manufacturers in China. Hence, look no further than Anhui Jietai Intelligent Technology as your appreciated brand while choosing the electronic sorting equipment on competitive market.