Product
Plastic Color Sorting Machine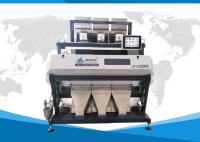 Plastic color sorter machine
We offer quality plastic color sorter, a kind of color sorting machine, using high resolution camera capability for high accuracy of plastic separation solutions. Jietai Technology plastic sorting equipment is specifically designated for detecting plastic products no matter plastic pellets, flakes, plastic materials like PET PE PP PVC, etc. Continuously used in plastic recycled industry, this enables us to use its unique features to get ultimate performance of finished products.

 



Jietai Technology has a full product line of sorting equipment for improving the quality of food and plastic processing. We have plastic color sorter which is more advanced than normal one due to the additional method of dealing with plastic products for recycling. Further, our plastic sorter has the ability of offering flexible processing specification that can promptly customize various image processing.





Established in the year 2000, Anhui Jietai Intelligent Technology is renowned for its rich experiences in colour sorter fields. As a result, several kinds of raw materials such as cereal grains, rice, soybeans and peanuts are all managed by our high quality machineries. We are a well-organized manufacturer of plastic colour separator, CCD plastic separator, coffee beans colour sorting equipment and more with considerate services for you.