Product
Rice colour sorters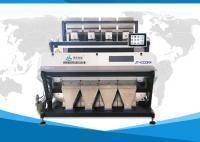 Rice color sorter
We are a reputed manufacturer of rice color sorter and other sorting machines for rice, cereal, grains, etc in advance to serve customers with cutting edge technology. Also, we are an ISO9001 certificated company with quality guaranteed equipment like rice color sorter and more sorter series. With our brand name, Jietai Intelligent Technology, we try our best to keep exporting and sale our main products in domestic and international markets.

The rice colour sorter machine offered by Jietai Technology is extensively manufactured for separating defects of mouse dropping rice, yellow rice, immature grain, black rice, etc. To get the high quality purified rice, this type of sorting machinery will strive to meet the great solutions. Our devices are capable of offering good accuracy and high sensitivity specifications to keep pace with the international standard.

Prospecting for the future, Anhui Jietai Intelligent Technology attempts to offer latest technology and market leading products for your marketplace. Overall our color sorting machines for rice, beans, cereal, or rice are primary selection for your food processing requirements. You are welcomed to inquire more details about our hot products.